Name: Carl S. (United Kingdom)
Userid: n7990467
Bio: http://bookmooch.com/n7990467

Inventory: 0
Points: 205.2
Mooched/given: 347/258
Pending mooch/give: 0/0
Mooch ratio: 0.94:1


Wishlist: 313
Feedback: +258
Charity received: 10
Friends: 5
Cancelled requests: 42
Books receiving lost: 2
Books sending lost: 10
Rejected requests: 8


Will send: only to my country
Joined: 2008/08/01
Last here: 109 days ago
(possibly inactive)
Country: United Kingdom


| | | |
| --- | --- | --- |
| Books in inventory: 0 | | |
Status message:
Hi - If you want to mooch any of my books please feel free. I will always accept international mooches, but they make take some time to go out due to high costs, so if you can't wait, please don't mooch (also please be aware that heavy/large books will go Overseas via SURFACE MAIL(can take up to 15 weeks for delivery) - smaller books by Air Mail). All my books have been well cared for although some come from charity shops and their condition is out of my control. If there's anything significantly wrong with them, I'll mention it in the description. I do not smoke but I have got a dog, but he prefers to watch the film rather than read the book so you should be okay. Happy Mooching!
Countries I have sent books to (so far)
USA (NY, CA, VA, MA, MI, OR, WI, ME, IN, AL, MD, TX, WA, PA, NL, WI, CA, OH, GA, NJ, RI, IN, WY, AK)
United Kingdom
Canada
South Africa
Switzerland
Austria
Denmark
Germany
Finland
Greece
Australia
Malta
Spain
Japan
Iceland
Singapore
Bulgaria
Indonesia
Israel
Italy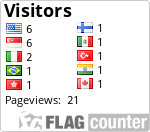 Bio:
Hi - I'm Carl - the sort of books I'm looking to mooch are anything related to Film Studies / History / Theory or anything related to the Second World War. I'm also into comedy books, thrillers and books related to Manchester United Football Club.
Last book read - The Walking Dead Comic Series
Currently reading - In Search of the Dark Ages - Michael Wood



Forums joined:
bookmooch_blog.
Forums active on:
bookmooch_blog.