| | |
| --- | --- |
| 12 ways to be a better BookMoocher | |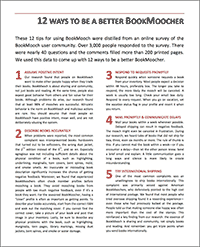 These 12 tips for using BookMooch were distilled from an online survey of the BookMooch user community, which was as part of a university course. Over 3,000 people responded to the survey. There were nearly 40 questions and the comments filled more than 200 printed pages. The class used this data to come up with 12 ways to be a better BookMoocher.


ASSUME POSITIVE INTENT
Our research found that people on BookMooch want to make other people happy when they trade their books. BookMooch is about sharing and community, not just books and reading. At the same time, people also expect good behavior from others and fair value for their books. Although problems do arise, our research found that at least 98% of mooches are successful. Altruistic behavior is the norm on BookMooch and malicious actions are rare. You should assume that most people on BookMooch have positive intent, mean well, and are not deliberately abusing the system.


DESCRIBE BOOKS ACCURATELY
When problems were reported, the most common complaint was misrepresented books: hardcovers that turned out to be softcovers, the wrong dust jacket, the 2nd edition instead of the 3rd, and so on. Especially egregious was not including sufficient details about the physical condition of a book, such as highlighting, underlining, marginalia, torn covers, bent spines, mold, and smoke smells. An inaccurate or misleading book description significantly increases the chance of getting negative feedback. Moreover, we found that experienced BookMoochers often check member profiles before mooching a book. They avoid mooching books from people with too much negative feedback, even if it's a book they want. For the seasoned BookMoocher, having a "clean" profile is often as important as getting points. To describe your books accurately, start from the correct ISBN and seek out the matching cover. If you cannot find the correct cover, take a picture of your book and post that image in your inventory. Lastly, be sure to describe any physical problems with the book, such as highlighting, marginalia, torn pages, library markings, missing dust jackets, bent spines, and smoke or water damage.


RESPOND TO REQUESTS PROMPTLY
Respond quickly when someone requests a book from your inventory. Most people expect a decision within 48 hours, preferably less. The longer you take to respond, the more likely the mooch will be canceled. A week is usually too long. Check your email box daily. Respond to every request. When you go on vacation, set the vacation status flag in your profile and revert it when you return.


MAIL PROMPTLY & COMMUNICATE DELAYS
Mail your books within a week whenever possible. Delayed shipping can result in negative feedback. The mooch might even be canceled in frustration. During our research, we heard tales of books that did not ship for two, three, even six months or more. The rule of thumb is this: if you cannot mail the book within a week--or if you encounter a delay--then let the other person know. Send a brief email and explain. A little communication goes a long ways and silence is more likely to create misunderstanding.


TRY INTERNATIONAL SHIPPING
One of the most common complaints was an unwillingness to ship books internationally. This complaint was primarily voiced against American BookMoochers, who defensively pointed to the high cost of international postage. We found that most people who tried overseas shipping found it a rewarding experience--even those who had previously balked at the postage. People told us that making someone else happy was often more important than the cost of the stamps. This reinforced a key finding from our research: the essence of BookMooch is sharing and community, not simply books and reading. And remember: you get triple points when you send books internationally.


ESTABLISH A PERSONAL CONNECTION
People make friends through BookMooch. While people said they were surprised when it happened, they also considered it one of the most important things about the site. When we asked people how they use BookMooch they talked about their interactions with other people as often as they talked about books. Trading books is only part of the story. Connecting with other readers is what keeps people coming back to BookMooch. We recommend going beyond the standard feedback mechanisms. When you receive a book, add a brief comment on the feedback form instead of choosing the "everything okay" default. People told us they appreciated even the briefest of comments. You might even send an email expressing your appreciation in more detail. When mailing out books, some people routinely include brief personal notes and these are especially prized (just don't write in the book itself). The key finding: BookMooch is better when people establish personal connections.


CREATE AN INFORMATIVE PROFILE
Experienced BookMoochers often read member profiles before mooching a book. They want to see if the person is a "good" BookMoocher. If they decide to mooch the book, they scan the inventory for other books. We recommend taking a few minutes to create an informative profile. Describe who you are and why you use BookMooch. Include a picture of yourself. Talk about your books. Don't just list your books--tell people about yourself and your life as a reader. To edit your profile, login to BookMooch and choose Your Account > Bio > Edit Your Profile.


MAKE A BIG WISHLIST
There are over half a million books waiting to be mooched, with more being added by the minute. You will find more books by having a big wishlist. People are often disappointed that BookMooch doesn't have the book they want. But BookMooch isn't a bookstore or a library--it's a community. When someone in the community adds a book to their inventory that is on your wishlist you will be automatically notified by email. Creating a big wishlist is like fishing with a big net. You won't get everything, but you will vastly increase your chances of picking up a few treasures. We also found that many people find books through Amazon first and then add them to their BookMooch wishlist. A simple browser widget makes this easy. You can get this widget from the BookMooch wiki (wiki.bookmooch.com)


USE RESERVATIONS SPARINGLY
The reservations feature was added in response to user feedback, yet many people do not like it. While BookMooch is planning to revise this feature, we recommend using it sparingly. People are frustrated when they get an email saying that a book on their wishlist is available, only to find it reserved for someone else. The advice from our research is simple: make most books in your inventory available to anyone and reserve the reservation tool for special cases. BookMooch is mostly about exchanging books with people you don't know.


KEEP YOUR INVENTORY UP TO DATE
If you list your books on other book trading sites, make sure your BookMooch inventory is accurate. Although only a small percentage of BookMooch members list their books on multiple sites, those that do are more likely to list a lot of books. We heard a number of stories from people who mooched a book and were then told it had been traded or sold, on another site, months earlier. We recommend listing books on one site at a time. Remove it from any other site before you list it on BookMooch. If you need to list a book on multiple sites at the same time, develop a way to track this information. You might create a spreadsheet or keep a written list beside your computer. Some people put a sticky note on each book indicating where it is listed. When they mail the book the sticky note reminds them of all the places where they need to delist the book.


PACKAGE BOOKS SECURELY
Package books so they don't get damaged. This is particularly important for hardcovers, which can get their spines broken. People reported packages ripped open in transit and books being damaged. Your goal is to make sure your book is received in the same condition as when you sent it. People feel cheated when books arrive damaged and will give you negative feedback. Wrap your books carefully. See the BookMooch wiki for tips on packaging and shipping your books.


PARTICIPATE IN THE COMMUNITY
People join BookMooch for the books. They stay for the community. They talk about books on the forum, volunteer for the BookMooch Angel network, join the BookMooch Journal project, and help edit the wiki. If we could summarize our research in one sentence, it might be this: if trading books are the bricks, then participating in the community is the mortar.